Learning Support (SEND)
Learning Development Department
| | |
| --- | --- |
| Assistant Headteacher: SENCo | Mrs E Wright |
| SEND Manager | Ms Y Boakes |
| Learning Support Administrator | Mrs L Noone |
| School and Community Liaison Officer | Mrs J Lamb |
Rooks Heath actively promotes and offers an inclusive education for all students in line with the SEND Code of Practice (DfE, 2015). All staff have appropriate high expectations for all students, and the Learning Support Department ensures that a network of support is available for students to be able to reach their full potential.
Rooks Heath follows the 'Assess, Plan, Do, Review' cycle outlined in the SEND Code of Practice. Teaching staff carefully monitor their classes and adapt class materials to ensure they are accessible to all. Below is the process we follow at Rooks Heath: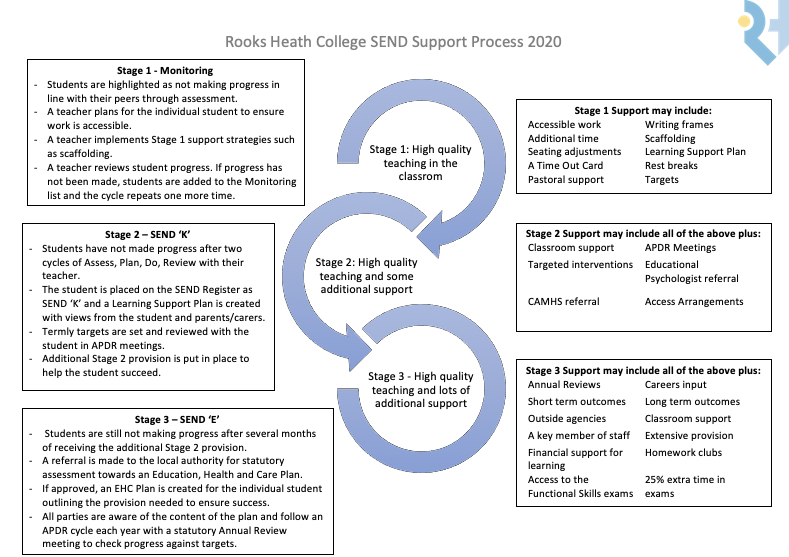 At Rooks Heath we follow five recommendations from the Education Endowment Foundation's guidance report on 'Special Educational Needs in Mainstream Schools' (EEF, 2020)

Some of the ways Rooks Heath is creating a supportive environment for all students:
• An inclusive curriculum with many pathway choices ensures high expectations for all.
• Students are recognised for their efforts in Teamwork, Resilience, Achievement, Creativity and Kindness through the On TRACK rewards system.
• All students are allocated to a Tutor Group from Year 7 to Year 11. Each Tutor Group is allocated a Form Tutor.
• Each Year Group has a supportive Head of Year who delivers weekly assemblies on topics such as personal development and citizenship. Each Head of Year works hard to ensure that their Year Group strives to be the best that they can be.
• A programme of extra-curricular Choice Activities is available to all.
• Students are actively encouraged to attend trips to enhance curriculum study or inter-personal and social skills.
• The Student Support Hub provides behavioural support for students both in and out of the classroom. They encourage students to be the best they can be.

Some of the ways Rooks Heath is building an ongoing, holistic understanding of our students and their needs:
• We work with lots of outside agencies to ensure that students' individual needs are met. Some of the outside agencies we work with are in the table below:
| | | |
| --- | --- | --- |
| Speech and Language Therapist | Educational Psychologists | Children's Sensory Team |
| The Centre for ADHD and Autism | Autism Advisory Teacher | Occupational Therapy |
| Physiotherapy | SENARS | CAMHS |
| The Helix | The Jubilee Academy | Harrow Horizons |
• The student has a lead role to play in meetings about their progress. Each student on the Montoring list and SEND Register receives a Learning Support Plan and a termly APDR meeting to check progress and choose targets.
• Key strategies are distributed to staff that work with students across the school.


Some of the ways Rooks Heath is ensuring all students have access to high quality teaching:
• All teachers know that they are responsible for ensuring the progress of students with SEND in their classes.
• All students are encouraged to access the full curriculum whenever possible.
• Staff receive ongoing professional development throughout the year regarding best teaching practice and how to support students with additional needs.
• Any interventions that students attend are designed to have minimal impact on their other classes. In fact, we plan interventions to have a positive impact on a student's overall progress.
• Additional resources are available to support staff and students breaking down barriers they face within the classroom.

Some of the ways Rooks Heath is complementing high quality teaching with carefully selected small-group and one-to-one interventions:
• Additional interventions have been carefully chosen based on progress seen in Rooks Heath or other schools. Below are some of the interventions that have been used at Rooks Heath:
| | | |
| --- | --- | --- |
| Cogmed | Functional Skills | Units of Sound |
| Mindfulness | Reading groups | Accelerated Reader |
| Nessy | Boxall | Friendship Groups |
| Social Skills | Transition Groups | Time to Talk |
| Additional English | Foundation Learning | Personal Development |
• Frequent Professional Development is provided for Learning Support Assistants leading interventions to ensure we are delivering high quality support.
• Interventions are linked back to the main curriculum areas to ensure students continue developing skills that have been developed.
Some of the ways Rooks Heath is ensuring best practice between teachers and Learning Support Assistants:
• Learning Support Assistants have been trained to support students to become independent learners. Instead of providing answers, they now use questions and higher quality interactions to ensure students are continuously learning.
• Learning Support Assistants have been allocated to subject departments to help develop curriculum knowledge. It also avoids students developing dependency on one adult.
• Teachers and Learning Support Assistants are now able to communicate through Microsoft Teams and are more involved with planning in their specific department/s.

New Code of Practice 2014