Employability Skills

"To be employed is to be at risk, to be employable is to be secure" - Peter Hawkins


Employability is a set of skills, knowledge and personal attributes that make an individual more employable. 
Hard Skills vs Soft Skills Video
It is believed that as many as 65 per cent of today's students will be employed in jobs that don't yet exist, which means preparing our young people for the future world of work has never been more challenging. Whilst qualifications and knowledge remain important, the students of today need the opportunity to grow into creative and critical citizens, ready to shape the future for themselves.
While employers want numerate, literate employees with good digital skills, they also want other capabilities. Employability skills are important because the labour market is intensely competitive, and employers are looking for people who are flexible, take the initiative and have the ability to undertake a variety of tasks in different environments.
The classroom is a lot like the workplace—you're expected to work effectively in the same place, with the same people, every day. Developing good personal management, teamwork and communication skills can make your time in the classroom more enjoyable.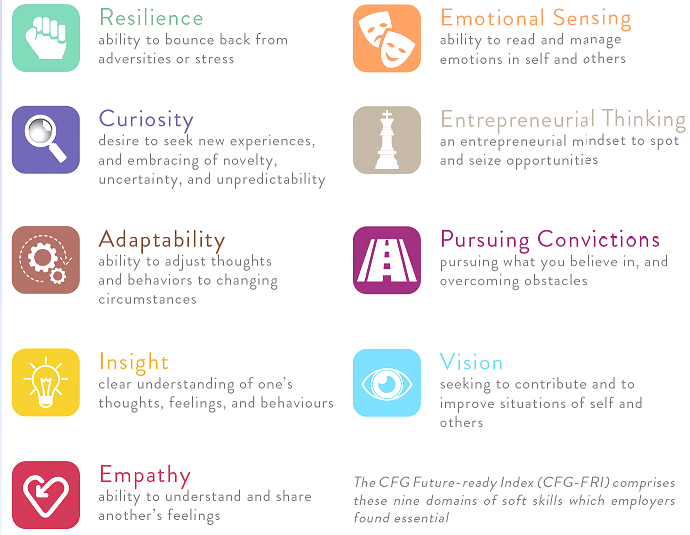 You can learn more about some of these important skills below:
1) Communication Skills: Building rapport and feeling confident engaging others through listening, observing, writing, and presenting. Communication Skill Link

2) Problem Solving: Analysing facts and situations and being proactive in developing new solutions or approaches. Initiating an activity rather than "joining in".
Problem Solving Skill Link

3) Teamwork: Respecting others, co-operating, collaborating, negotiating, persuading, and contributing to discussions or joint projects. Successfully achieving a joint goal. Teamwork Skill Link

4) Creativity: Being curious and innovative. Creativity is not just about aesthetics – It is the ability to think about a task or a problem in a new or different way, or the ability to use the imagination to generate new ideas. Creativity enables you to solve complex problems or find interesting ways to approach tasks. If you are creative, you look at things from a unique perspective. Creativity Skill Link

5) Self-Management: Accepting responsibility, being resilient and appropriately assertive. Reflecting, taking feedback, and developing yourself. Self Management Skill