UKMT Regional Finals 2012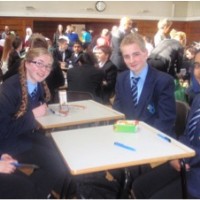 Please enter an introduction for your news story here
On the 22nd March, for the first time in our school, four students from Rooks Heath, Jessica (8R), Ryan (8R), Lana (9Y) and Vinooja (9G), were given the opportunity to participate in the UKMT Team Maths Challenge Regional Final, which took place in Preston Manor School in Wembley.
In total 24 schools participated. We enjoyed the relay race.
In this round we had to run to receive and correct our Maths questions from our given supervisor who was right at the back of the hall.
Unfortunately we did not make it to the 1st, 2nd or 3rd place, but we still enjoyed ourselves and after all it's the taking part that counts!
Thank you to Mr Manivannan, for preparing us for this event, and to Mrs Syed, who kindly volunteered to take us there. It was an amazing experience.
Vinooja Thurairehinam (9G) and Lana Bader (9Y)