Year 8 Geography Trip to Denham Country Park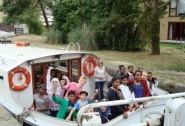 On 19th June 2014, 40 students from Year 8 went on a trip to Denham Country Park, travelling by coach, to support their Rivers unit of work.
On 19th June 2014, 40 students from Year 8 went on a trip to Denham Country Park, travelling by coach, to support our Rivers unit of work. For the first part of the day, half of us worked in Denham Country Park while the other half worked on the Elsdale Floating Classroom. After lunch, we switched, therefore we were able to experience both activities.
Even though the Country Park is not far away at all from motorways and main roads, it was in stark contrast to the city; quiet, lots of greenery and the atmosphere had a relaxed feel about it. After a few safety rules, our instructor, Deb, helped us measure the width and the depth (in increments) of the river. We also did river dipping during which we found all sorts of creatures, such as leeches and swimming mayfly larvae.
On the Floating Classroom, Mike (our guide) talked to us about the history of canals, the reason why canals
are sustainable and efficient, and the differences between rivers and canals. The students had a lot of time on the boat during which we were able to appreciate our surroundings. When we came across a lock, four students were chosen to open the gates. A lock is something that is constructed in the canal, to assist the boat in going uphill/downhill. It was quite heavy, but we managed to open it after a while (with Mr Simpson's help).
What we enjoyed about the trip:
One student said, 'My favourite bit about the trip was when we got to go in the water, when we were river dipping. It was fun and interesting and something I have never done before.'
'I enjoyed the boat trip on the canal. I learned a lot and I liked how we were able to go outside and enjoy the nature and the wildlife,' commented another student.
Personally, I enjoyed the company of all the students and the weather was brilliant. We all took part in a lot of 'hands-on' activities and I especially liked helping to open the two gates in the canal. We had an amazing time and I am sure all of us learned a lot during the day.
Thank you to all the members of staff who organised the trip and to all the teachers who accompanied us. This trip has been a lovely experience and it should definitely be offered to the Year 8 geographers next year!
Rhae (8 Green)