Art Competition to Design an Oyster Card Holder for TFL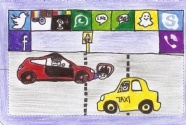 Congratulations to Eva and Sagityan for winning the Art Competition to design an Oyster Card Holder for the Road Safety Campaign.
We are delighted to announce the winners of the Road Safety Campaign for Vulnerable Teenage Pedestrians.
1st place: Eva (8 Blue)
2nd Place: Sagityan (7 Red)
We would like to congratulate the two winners for all their hard work and exceptional designs!
Mrs Maida and the Art Department