U16 Borough Basketball Final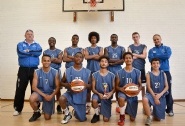 The U16 Basketball Squad has had a very successful season this year, with the team unbeaten going into the Borough Final against Harrow High.
The U16 Basketball Squad has had a very successful season this year, with the team unbeaten going into the Borough Final against Harrow High. Harrow always get to, and host, the final as they are a specialist basketball academy and recruit players from all over London. All squad members have a unique individual timetable, which caters for basketball training during the school day and countless extra-curricular hours. Rooks Heath prides itself on offering all students a wide range of extra-curricular activities through PE and therefore does not have any particular specialism.
The final was played in front of a very hostile crowd at Harrow High. Along with vociferous support they had a drum that they would beat every time that we took a shot. Initially, it was very off-putting but slowly the team got used to it. The game stayed very close during the first half, with there only ever being no more than four points between the teams.
The second half started badly for Rooks Heath, with Harrow High opening up a lead of eight points. A 'time out' was quickly called; Mr Todd challenged the squad to believe in themselves and to rise to the challenge being presented to them. Pinpointing that this was the most crucial period of the match, the team refocused on what was necessary and went back on court with a steely determination. The demographic of the supporters was also changing with many Rooks Heath students having made their own way to Harrow High and now making considerably more noise than Harrow High's fan base.
Devonte Richards, who was playing his first match after a big knee operation, grasped the game by the throat and hit three consecutive three pointers, bringing the game right back to Rooks Heath. With Marcus Weekes and the rest of the squad working tirelessly in both offense and defence the game entered the final thirty seconds where the game changed hands four times.
With four seconds left, Timee Kabwit scored a basket to put Rooks Heath a point in front. However, Harrow High went straight down to the Rooks Heath basket and a player got fouled in the act of shooting, resulting in two free shots for that player from the free throw line. Score both and Harrow High would be Borough champions. However, with the Rooks Heath support now giving Harrow a bit of their own medicine by stamping their feet and making plenty of general noise, the pressure became too much and the player missed both shots. Cue a pitch invasion and wild celebrations.
As head coach I am immensely proud of what this group of players has achieved this season. It is the first time in seven years that the Borough championship has been wrestled from the grasp of Harrow High and long may it live in the memory!
Squad
Leon, Marcus, Devonte, Afrasyab, Timee, Duval, David, Liam, Arbab, Adam. Assistant Coach Mr King.
Mr Todd