Rooks Heath Debate Club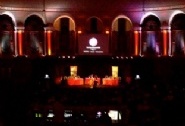 Year 9 and Year 10 students took part in a live debate with 15 other schools at the Emmanuel Centre in Westminster.
The 7th November saw the launch of Rooks Heath's brand new debating competition. Nineteen Year 9 and Year 10 students joined 15 other schools from all over London at the impressive Emmanuel Centre in Westminster to find out what is was all about.
A live debate took place on whether students should be allowed to choose their own Head teacher. Despite the majority of the visiting schools showing support for the motion, steadfast Rooks Heath students felt this was not a good idea, even volunteering to speak in front of hundreds of people. Unfortunately we didn't get picked, however, with that kind of enthusiasm and reasoning we're sure to go far in the up-coming competition.
Training for the debate league started on Wednesday, 13th November and will continue weekly over the next year. The sessions are led by experts in debating from the 'Debate Mate' organisation. Students are working towards competing on a regional level which will culminate in a national final. All are welcome but places are limited, so please speak to Miss Plant (AF12) if you are interested in joining.