Rooks Heath School 'Team of the Year' 2013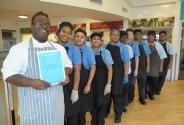 Harrison Catering's annual 'Team of the Year' Award was won by Rooks Heath School this year.
We are pleased to announce that Rooks Heath School has won Harrison Catering's annual 'Team of the Year' award. The competition evaluates the quality of food served in school restaurants, along with the quality of team building among kitchen staff and the management of their kitchen's budget. Harrison Catering work with 8 secondary schools in Harrow and Rooks Heath was shortlisted out of 19 schools across London and the South West of England. We are extremely proud of our chef Geoff Topin and the excellent team we have working in The Rookery at Rooks Heath.
Geoff the chef said, "Harrison Catering has five fundamentals; Family, Respect, Honesty, Pride and being Exceptional. We strive to achieve this with all our customers, students and staff by going the extra mile at Rooks Heath School and catering for everyone's needs. We are passionate about delivering excellent standards and having good rapport with both students and staff as without them we would not be able to do what we do. We are extremely happy to work with Harrison Catering Services and Rooks Heath School as we enjoy delivering good food and service and we always have wonderful feedback about our food. Although it requires a lot of hard work, to see empty plates and smiles makes it all worthwhile."
Many congratulations to the whole team.