Year 13 Visit to the Cavendish Museum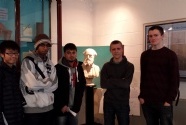 Year 13 students visited the Cavendish museum to see some of the equipment used in the investigation of the atom.
Year 13 students are preparing to give one of our Year 9 classes a lesson on the history of the atom. In order to prepare them, they visited the Cavendish Museum to see some of the apparatus used by famous scientists in the field of Particle Physics.
For more information about the trip please click on the link below:
http://rooksheathscience.wordpress.com/2013/11/17/visiting-the-cavendish-museum/