Year 8 Adventurous Activities Trip to Brecon Beacons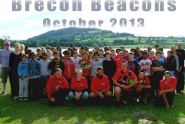 On Friday 4th October, 50 Year 8 students and 6 members of staff set out for four days and three nights in the wonderful environment of the Brecon Beacons, Wales.
On Friday 4th October, 50 Year 8 students and 6 members of staff set out for four days and three nights in the wonderful environment of the Brecon Beacons, Wales. The purpose of the trip was to enable students to broaden their horizons and increase aspirations by experiencing life away from home in a 'Back to Basics' environment, whilst also having the fantastic opportunity of attempting to complete challenging adventurous activities.
'It was hard to contain our excitement as we gathered ready for the trip; the anticipation was electric. We knew that the long weekend was going to be action-packed full of lots of activities. During our time at Brecon Beacons we took part in a variety of activities including: Zip-Wire/High Ropes, Canoeing, Rock Climbing, Abseiling and Bush Craft.
I though that the most inspirational activities were the zip-wire, rock climbing and abseiling, whilst canoeing and bush craft taught us about survival in the woods. These activities were about building our confidence, and the great thing about rock climbing was that it was a 'world away' from school life. Abseiling was the opposite; instead of going up the wall we were going down. It was quick and like every other activity, you felt a sense of accomplishment.
On the high ropes we had to do the terrifying leap of faith, where we had to jump off a large podium and reach for a trapeze bar. At first I just could not do it, but with Mr Todd's patience and coaching he helped me conquer my fears. The final activity we did was the zip-wire which was slightly nerve wracking, but as I had already done the high ropes I was not so anxious.
I felt that the best part of the trip had to be the comfortable environment. All the teachers were very supportive especially Mr Todd who was our activity group leader. The trip taught me that there are many interesting elements to nature; it was an enlightening experience that I will never forget.' Sonya (8 Yellow)
'When I first took a look at the camp, I was shocked! The cabins looked dated and smelt really musty. All I could think about was the luxuries I'd left at home. The first day was all about getting ourselves settled and learning how to live a basic life. The cabins had no heating, which did not help as it was freezing cold. There was no shower in our cabin or any warm water available for the pupils. The worst thing was the communal showers! It was times like these when I wished that I was a teacher, as in their cabin they had all the things I needed most. Many people dreamt about staying in the teacher's cabin.
The meals were quite nice, a bit bland but edible. We really did show the chef our appreciation by chanting their names, so that they would come out of the kitchen. When they did, they were met with cheering and wild applause; it was a great atmosphere.
The activities we did on the trip were amazing. My favourite was canoeing, as it was lots of fun and everyone got wet and some people even volunteered to be thrown in the lake by the instructors. The hardest thing was trying to stop your canoe from capsizing, which a lot of people's canoe did.
Despite staying in a freezing cold cabin with very few luxuries, it is fair to say that I had the time of my life and I am very glad I went on the trip, not just for the experience but also for the new friendships I have made. This trip has taught me that I can achieve if I believe and that it doesn't matter how run-down the place you're staying is, you can still have an amazing time with your Rooks Heath family.' Leah (8 Orange)