French Trip to Paris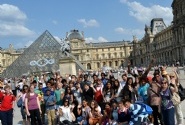 Students studying French in years 9 and 10 visited Paris in July 2013.
Students studying French in years 9 and 10 visited Paris in July 2013, departing on Friday the 19th and arriving back on Sunday the 21st. The purpose of the visit was for students to enhance their French and build their confidence in speaking the language as well as giving them the opportunity to learn about French culture by experiencing it first hand.
In the early hours of Friday morning, students accompanied by Ms Caullet, Mr Kunakey, Ms Pucicka and Ms Lane travelled to Dover where they boarded the ferry to Calais. They arrived in Paris at around 2pm and began a tour of the city. They visited the main monuments including Arc de Triomphe, Champs Élisées and Place de la Concorde. They then visited Le Louvre and the Pyramid where the students had an hour to visit the area. At the end of the day they proceeded to their hotel where students and teachers had their dinner and played football in the nearby leisure centre.
On Saturday, most of the day was spent in Parc Asterix which is a famous and very French theme park with lots to see and do. Students had a fantastic day out, enjoying plenty of rides and even watched a brilliant dolphin show. After an exhausting but enjoyable day out, students stopped at a local supermarket to have a look around and compare it to supermarkets in the UK.
On Sunday they experienced the Parisian tube as they travelled to The Eiffel Tower where they admired the views from the second floor. After returning to the hotel, they had lunch and departed for Calais at around 2pm.
What was the best part?
'Everything! Parc Asterix, being with friends, walking around Paris and having a laugh!' Dylan (10 Orange)
'Parc Asterix, but everything was great!' Alfred (10 Orange)
'Going up The Eiffel Tower. It was great because the view was amazing.' Sabina (10 Blue)