GCSE Geography trip to Swanage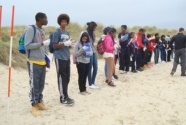 Year 11 GCSE Geography students visited Swanage for the weekend to collect data for their coursework.
Fancy a trip to the beach? Between the 20th and 23rd September 2013, 32 Year 11 GCSE Geography students went on a delightful trip to Swanage to collect data for their coursework. We stayed in a Youth Hostel in Swanage's town centre.
The main purpose of the trip was to collect primary data for our coursework, based on the National Trust's management of Studland Bay.
On the first day, we visited Shell Beach which is located near Sandbanks ferry terminal. During this time, we enjoyed exploring the beach and building sandcastles. We then travelled to a small village called Worth Matravers.
On the second day, we went to Studland Bay to collect data for our coursework. At first, we were given some time to take any relevant photographs and to interview workers and visitors. We carried out a beach pollution survey to find out how much litter was left behind by visitors. We also measured
footpath erosion and later went on a tour with our teachers during which they explained many essential key terms. We also had time to buy souvenirs for ourselves and our loved ones.
We also had a look at various coastal landforms, and learnt about their formation. Old Harry and his Wife are worthy of mention here (Old Harry and his Wife are chalk stacks which were formed by erosion; they are not actual people!) Although the walk there was extremely exhausting, the final views of the coastline were certainly worthwhile.
On the final day, we went to Lulworth Cove where we walked and climbed a long distance. It was very misty, but thanks to our experienced teachers everyone completed the walk safely.
We also saw other astonishing landforms, including Durdle Door. On the beach, the students and teachers engaged in the 'educational' activity of part-burying a student in the pebbles (twice!)
In the evening, the students set out around the town of Swanage on a quest to complete a set of questions for a quiz. Many of us were pleasantly surprised by the friendliness of the local people as they helped us to complete some of the questions. Congratulations to 'Team World War 2 Bomb Erosion' for winning the challenge!
Lastly, on the day of our return, we went to the beach in Swanage to look at longshore drift and coastal defence, and for souvenir shopping.
The best part? That is not easy to decide, since everyone enjoyed different aspects of the trip. Overall, we all thoroughly enjoyed these few days (even all the walking which did not dampen our spirits!)
We would both sincerely recommend this trip to any future GCSE Geographers! We would also like to take this opportunity to thank Mr Simpson, Mr Wright and Ms Rockell, on behalf of the Geography students, for making this trip an unforgettable experience.
Narmada (11 Green) and Vinooja (11 Green)