Prospective Parents Evening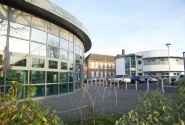 Rooks Heath's annual Prospective Parents Evening is a succes.
Rooks Heath held its annual Prospective Parents Evening on Tuesday 17th September, which was a huge success as many prospective parents and students came along to find out more about the School following three successive 'Outstanding' OFSTED inspections.
Parents and prospective students were greeted by members of staff and welcomed into the hall where they enjoyed music performed by our students from a range of different year groups. After the address by the Headteacher, Dr Reavley, our prefects took families around the School to show them the different departments and give prospective students a taster of life at Rooks Heath. Each department had various displays and activities to offer, from baking cookies in Food Technology, carrying out neutralisation reactions in the science lab to participating in a game of table tennis in the gym! Staff and students were also available to answer important questions and give parents and students information about the subjects.
The evening was a success and enjoyable for everyone involved. It was clear how passionate our current students are about the School and how happy they are with the teaching and support offered to them by our fantastic members of staff.
A nice touch to the evening was the speeches given by our new Year 7 students, giving prospective parents and students an insight into what life has been like for them since they started Rooks Heath two weeks ago.
'A very good evening and a warm welcome dear parents and hopefully soon to be Year 7 students at Rooks Heath. Just like every Year 6 student feels, I was also scared, nervous and excited at the same time before starting at Rooks Heath School. My first few days were a mixture of nerves and excitement due to the hugeness of the new school, different teachers for every subject, interminable corridors and timetables to follow which all took my breath away. While primary school taught us the basics of academics, time management and social skills, secondary school further enhances our knowledge thereby increasing independence and responsibility.
I found the teachers at Rooks Heath very supportive and always willing to help. Lessons are structured in such a way that they arouse interest and challenge young minds, keeping the students actively engaged in their learning. The balanced curriculum of Rooks Heath provides opportunities to develop individual interest and I am looking forward to explore new horizons and give a meaningful direction to my life.
With an OFSTED "Outstanding" consecutively for the third time, the school promises a bright future for its students. See you all next year!' – Ashwin (7 Yellow)
'When I walk into Rooks Heath every day I feel like I'm in the most warm and friendly environment. This was obvious to me when I visited this school. I did actually visit another school but unfortunately didn't feel the same warmth. Instead, I felt that the school was cold and dull. Obviously you have worried about high school. I did too. I was worried about moving around the school to different lessons, but it's actually one of my favourite things now!
Now I would like to tell you about some of the things I have been doing at Rooks Heath that I didn't expect to find myself doing. The first was walking around the classroom speaking German after just one lesson! Next was sitting back to back in a Geography lesson drawing Kenyan mountains and finally, running around playing drama games with my form.' – Hamdi (7 Green)
'Before I started Rooks Heath I felt anxious, excited but also scared. You can say mixed emotions. This was because I was starting a new chapter in my school career and in my life. However, my first few days at Rooks Heath have been great. I've got a brilliant form tutor and co-tutor, who have been a great help to me and will continue to support me in the future.
I know that dreadful feeling of getting lost, but Rooks Heath gave us a link book which has a map to assist you to get around the school. If you do get lost a member of staff or other students will always be willing to help.
If you do come to Rooks Heath next year then take my top tips! Always remember that you have a big Rooks Heath family to look up to. Also remember the staff are like your parents; if you respect them, they will respect you back.Thank you, for coming and I do hope you have a very good evening.' – Haasher (7 Red)