Race for Life 2013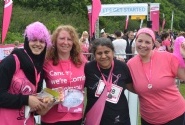 Rooks Heath Ladies take part in Race for Life.
On Sunday 16th May a group of female staff from Rooks Heath School took part in Race for Life 2013. This is the second year Rooks Heath Ladies have participated in the event to raise money for Cancer Research.
After an early morning start and an energetic warm up, Rooks Heath Ladies completed the 5kms by either running or walking.
'It was an enjoyable experience and the atmosphere from the crowd encouraged me to keep going to the finish line.' Miss Loughhead
'It was an amazing atmosphere and I was so overwhelmed with the experience that I cannot wait to do it again for it is in the service of the needy that makes life worthwhile.' Ms Thobhani
'It was a great day which helped raise money for a fantastic cause. Well done Rooks Heath Ladies!' Miss Clancy
Through generous donations from colleagues, friends and family they have been able to raise £1,348.56. They plan to take part next year and make it an annual event on the calendar.
Well done to all involved in the race.