Rooks Heath Students Discover Germany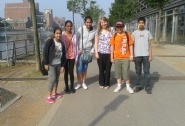 5 very enthusiastic Year 8 German students accompanied by Ms Pucicka took part in the 'Discover Germany 2013' trip to the Ruhr district (Ruhrgebiet) of North Rhine Westphalia organized by UK-German Connections.
Rooks Heath was one of four schools from across the UK that was successful in gaining a place on the trip. The partnership project who run the scheme said, "This year, we had a high number of very good applications, so it is a great achievement for your school to have been selected". Our students were: Swara (8G), Roshni (8V), Naveen and Prahlad (8I) and Sitesh (8B).
The students visited a German school - Steinbart Gymnasium and would like to establish a relationship as a partner school. They undertook joint project work about regeneration in the Ruhr area of West Germany. There was also a 'Ruhr Tour', visit to the Zollverein and Ruhr Museum, as well as a trip to the zoo and a guided tour of Duisburg Harbour.
Our students had a great time and a wonderful experience of Germany.