Year 11 Geography residential to Swanage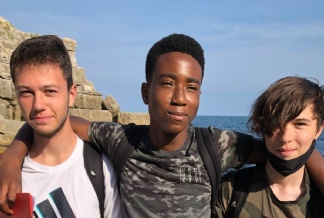 We were delighted that our Year 11 Geography residential trip to Swanage went ahead. This was our first school trip since lockdown. Below is an account written by one of our students Kerethika Rosairo - 11Y.
Day1 (Friday): On the 17th of September 2021, twenty-one Year 11 students and three teachers began their voyage to visit the glorious coastlines of England. Little did they know that this residential trip would be a highlight of their last year of secondary school.
After hours of watching cars passing by on the motorway, our first pit stop was the service station where we all enjoyed the fresh air and freshened up before hitting the road for another 30 miles to visit Shell Beach. On our way to the breath-taking beach, we boarded a ferry at Sandbanks, which is a small peninsula on the coast of Dorset. In order make the most of our time, we later walked to Winspit Quarry, where we took in the gorgeous view of the English Channel and explored the caves of this abandoned limestone quarry.
The evening was finally settling in as we arrived at the youth hostel. This is where my fondest memories of the trip were made. After hours of anticipation, my roommates and I settled into our enormous room which came with an en-suite bathroom and a stunning view of Swanage beach and its cliffs. We then headed down to dinner and then to our lesson where we were informed about the fieldwork we were going to be doing the following day. The highlight of the day was when we were free to explore the town at night. We ended up spending our time in a local arcade where most of the boys spent their time on the claw machines. Waves of laughter and excitement floated through the air when we were all huddled up around claw machines, cheering and running in exhilaration whenever someone won. As our curfew approached, we walked back to the hostel where our night ended.
Day 2 (Saturday): BANG! BANG! We groggily woke up at the sound of Mr Simpson's blaring knocks on the door at 7am. We started to get ready and then ate breakfast to fuel us with the energy needed for the miles and miles of walking we were about to do. Today was the day when we completed our fieldwork at Knoll Beach, before starting our hike to the famous Old Harry Rocks which we were all enthusiastic in seeing after years of hearing non-stop talking about it in our geography lessons.
There couldn't have been a more perfect day to visit Knoll Beach; the sun was shining as we completed our fieldwork
using quadrats to measure the amount of marram grass and anemometers to measure the wind speed. We then explored the bomb hole, which was an enormous crater left on the beach from a second world war bomb explosion. Afterwards, we took a lunch break before we started our prolonged hike towards the Old Harry stack formation.
The hike to the stack was exhausting but 100% worth it. The view beat all the textbook pictures and was definitely a sight to see. We sat on the cliff and completed a worksheet where we sketched the formation of stacks while Mr Wright lectured us on the processes of how they were formed.
Before we knew it, darkness started to settle, and we were back in the classroom creating posters on why tourists should visit Knoll beach. We also used Ordnance survey maps to practise our map skills, such as 6 figure grid references, before it was time once again for some free time.
Day 3 (Sunday): Again, awoken by Mr Simpson's rousing knocks on the doors, we started our usual routine by getting ready and fuelling ourselves with breakfast for the longest and most challenging hikes we would come across.
We started the adventure by visiting Lulworth Cove where we completed various tasks such as sketching and visiting an information centre to complete a worksheet. The walk to the cove itself wasn't exhausting. However, the hike to Durdle Door was personally not my favourite as I frequently had to take breaks walking up the very steep pathway. By the end of the walk, my legs felt like they were going to buckle, and I couldn't wait to get back to the hostel to relax.
The following evening, we continued our usual routine of going to the classroom and completing work. After our lesson, we were allowed free time, so we ventured through the town and enjoyed the cool breeze and moonlight of Swanage Bay while we completed a scavenger hunt. When we came back to the hostel, we all regained our energy and hung out in our rooms and talked until we all passed out.
Day 4: The 20th of September creeped around sooner than we all expected, and it was the day we all had to say goodbye to the hostel where our laughter echoed around the hallways. And we also had to say goodbye to the town of Swanage, where one of the highlights of our year was made. My friends and I still reminisce about this trip, where all the memories were made and where our friendships bonded stronger.
We started our journey back to Harrow in the minibuses and within an hour, we were all sprawled on the seats, passed out, until we reached the service station where we all groggily woke up and ate our lunch. Fast forward two hours, we were back at school and were dismayed to realise that we had to go back to our usual routines at school the following day.
Overall, the residential trip to Swanage has made a mark in my final year of secondary school, and those four days had been exhilarating with new adventures every day. Thank you to Mr Simpson, Mr Wright and Ms Rockell who worked very hard organising this trip despite the recent pandemic. Lastly, to future Year 11 geographers reading this, I hope this article has inspired you to visit the beautiful town of Swanage as it's a once in a lifetime opportunity to visit with your classmates and teachers!