A Fun Day in Brighton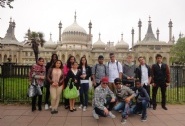 Students studying English as an additional language recently had the opportunity to practise their literacy skills on a trip to Brighton.
Students thoroughly enjoyed the experience and no doubt will remember it for some time to come. They made the most of every opportunity to use vocabulary and grammar that they had learned
in lessons. Here are some of the comments that they made:
"I thought the trip was the best fun ever because there were 14 students. It was so interesting and we talked to each other, played some games and had some fun. I will never forget this trip!" Mohamed 10B
"I liked this trip and want to go back to Brighton again with my friends and family. I enjoyed going with my group." Naser 10G
"I think Friday's Brighton trip was very fun. We visited many places. The sea was beautiful and looked very blue. I liked that very much." Sherry 10R
"I went to Brighton to visit the place. That place looked like Central London, with people of many different cultures. I loved the sea and the waves and we walked on the stones." Anu 10R
"This was my first time on a school trip with my friends. I really enjoyed the trip. I saw the sea and many interesting places and we played on the beach." Arunilavan 10R
"The trip was very cool. There were 14 students and 2 teachers. We did a lot of things and we walked so much." Przemyslaw 10R
"Brighton was the most magnificent trip that I have had so far because it was my first time in Brighton and I enjoyed it so much. I was really excited and the trip was amazing and so enjoyable.I really had a wonderful time with all my friends and I know I will really miss my class mates." Latefia 10G
It was a pleasure to spend the day with these students and I was extremely proud of all of them and the way that they represented Rooks Heath.
Ms Gloor