Gold Award Tea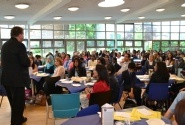 Students and their families recently attended an award ceremony for outstanding behaviour.
On Thursday 27th June 2013, 75 students and their families attended a special Gold Award Tea for achieving 150 Reward Points. This is a magnificent achievement, and all the students must be congratulated for their efforts and excellent behaviour over the academic year. They each received a special gift and all tucked in to an amazing tea provided by our very own 'Geoff the Chef' and his staff in the Rookery, which was filled to overflowing.
My thanks must also go to the Year 10 Prefects who gave up their time to help set up the Rookery and waited on table so efficiently. Music was also provided by Parathiga, Praveega , Roshni, Nibras, Tyler, Ejike and Kabithan.
R.Corzberg (Mrs)
Deputy Head (Pastoral)