'Prom Perfect'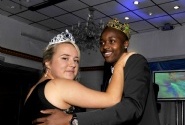 The Year 11 Prom took place on Thursday 27 June at the C & L Country Club in Northolt and, wow, what an evening! The months and months of planning finally turned into reality and we were not let down.
The Year 11s, excited and relieved from the pressure of their GCSE exams, arrived in taxis and limousines and, then fittingly, stepped out on to a red carpet as they entered the venue. The boys looked more handsome than ever and the girls, even more beautiful. Not one of them would have looked out of place had they been arriving at the Oscars!
The music and dancing lasted the whole evening, although the students
did manage to put aside some time to find something to eat from the extensive buffet dinner selection. Votes for Prom King, Queen, Prince and Princess were cast and, when the winners were announced, it was to the enthusiasm of the others present. Jordan, Rhiannon, Zach and Jodieann stole the show when the traditional dance for Prom Royalty took place.
It was a thoroughly enjoyable evening and I would like to thank my amazing committee, especially Marina, Patrycja, Thaynna and Xhei for all their efforts over the last few months.
I told the Year 11s some weeks ago, "You only get one Prom. Make sure it's a night to remember." It was just that!
Ms H Grover
Director of Learning, Year 11