Year 10 sample German dishes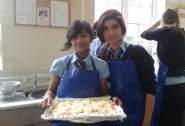 Year 10 German students have been using their cooking skills to create German dishes.
Wir kochen in Deutsch!
The Year 10 German class had a wonderful opportunity to research German recipes and to cook or bake the tasty German food. Here are some examples:
Justina baked the Pretzeln,
Abi and Banu made Kartollelsalat mit Bratwurst,
Ramz cooked Wiener Schnitzel,
Mariam and Arthiga made Nudeln mit Käse,
Milan baked Kekse, Shivani
Santhya made Pfannkuchen mit Edrbeeren und Sahne!
All of the dishes looked so tasty and colourful!
Thank you to Mrs Harrison for helping us with the cooking and allowing us to use her room and to Ms Pucicka, our German teacher.