Bollywood Brass Concert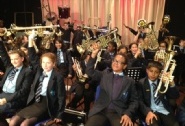 Students involved in the Bollywood Brass project perform to an audience for the first time.
Having only started playing brass instruments in October 2012
the 'Bollywood Brass' ensemble made the music department very proud last week when they performed for the first time in front of their own year group. This would be a daunting challenge to a seasoned performer, but our students displayed true courage and confidence through each song they demonstrated.
Jordan in 7G and Akini in 7R were particularly impressive with performing solos in front of the large audience. They have clearly been practicing over the previous months to reach the level that they are at. The drummers also deserve a particular mention for keeping our students in time and providing an attention grabbing rhythm throughout each piece.
The School would like to thank all of those involved in the project so far and we look forward to witnessing the main event on Tuesday 25th June at the Harrow Arts Centre. This is where their hard work will really pay off!