Remedy Sounds visits Year 8 assembly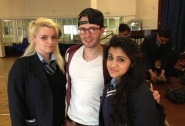 On Tuesday the 18th of July Remedy Sounds came in to perform in assembly for the year 8s and music students.
Remedy Sound smashes Rooks Heath!
He welcomed us with his music and told us a bit about his life, like how music changed him and gave us ideas about how to start off in the music industry and how far you can go. He was happy spending time talking with us and also explained how he writes his music. I enjoyed his performance because he performed a range of songs. Some quiet and slow, then he built up to more upbeat songs. The crowd really enjoyed it.
Remedy Sounds is a UK urban-acoustic loop pedal artist. He won an award for the best original song in the prestigious Live and Unsigned competition. He's now already clocked up over 200 shows within just 12 months, supporting the likes of Labrinth, Katie B, Wiley and Tinchy Stryder to name a few!
By Rosen 10O