World Poetry day competition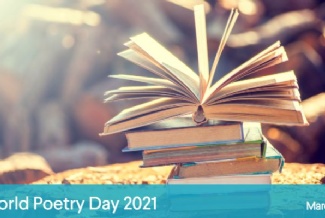 The Foyle Young Poets of the Year Award 2021

Judged by the fantastic Clare Pollard and Yomi Ṣode.
The competition is open to anyone aged 11-17. The deadline to enter your poem/s is midnight BST 31 July 2021. Entries must be written in English, but you can include phrases in your mother tongue or another language.
It is completely FREE to enter and you can submit as many poems as you wish. Find out more here, and read the rules here. You can also check out lots of writing resources and tips here.
All entrants will receive an e-certificate for participating in this prestigious competition.
Young Writer's Organisation - 'Imagine' - Poetry competition
Imagine... invites 11-18 year-olds to enter their thought-provoking poetry into Young Writers' national poetry competition! Imagine if we were all equal... Imagine if you had one wish... Imagine if the world ended tomorrow. A simple thought can inspire so much creativity. Write your poem around the word 'imagine'.
Please email your entry to rgarrett@rooksheath.harrow.sch.uk before 26th March