Rooks Heath Staff Run for Cancer Research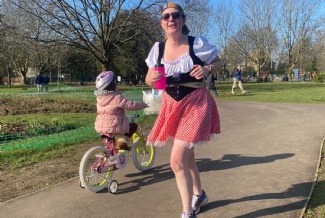 A small team of staff runners from Rooks Heath have completed 56 miles of running in February to raise funds for Cancer Research UK - that's 2 miles each per day!
In January, Mrs Garrett got the awful news that friend, who had formally been in remission from Cancer, had been told her Cancer is terminal. Just 1 year left. It's the news nobody wants to hear and left Mrs Garrett feeling both heartbroken and angry. The 'Run 56 Miles in February for Cancer Research UK' appeared on social media and she signed up.
Mrs Garrett says:
Personally, I like to jog a little 2-3 times a week; nothing too strenuous or too far. It's been great for positive mental health during the lockdown months. Sitting at a computer all day from dawn till dusk is not healthy either mentally or physically so my solution was running, usually as fast as I can away from my laptop once work was completed.

She goes on to say:

At this point, I actually did the maths, how far I normally run and the difference to 56 miles... it's about 30 more miles than I would normally do in a month. Oh no! What have I done! All the self-doubt came flooding in: you can't run that far; you'll injure yourself; everyone will laugh; no one will donate. I mentioned the challenge tentatively to a few colleagues - instead of telling me how ridiculous it was they decided to join me - Mrs Hyde, Mrs Adams, Mrs Logan, Mr Macaulay and Ms Soti. I can tell you, a challenge is better with friends.


Personal bests, half marathons, snow, mud, dog bites, fancy dress and just getting out the door and getting those miles done - it's all been a challenge but a brilliant experience too for our wonderful team of runners. We all know many people are affected by this awful disease and seen the bravery from those going through the most difficult and painful treatments but the fight still goes on. The work done by Cancer Research Uk has saved many lives already and will go on to save many more.

Thank you to the staff, friends and family who have donated. To date we have raised £785!
Let's kick Cancer!
Mrs Garrett