food parcels during february half term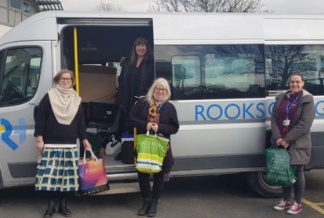 Rumi (a 13th-century Persian poet) was once asked, "Which music sound is forbidden?" Rumi replied, "The sound of tablespoons playing in the pots of the rich, which reached the ears of a hungry poor."
Sustain UK estimates that 8.4 million people in the UK are living in food poverty, and according to the Trussell Trust, in 2019-20, a record high of nearly two million people in the UK used a food bank.
The Rooks Heath Family showed its true values and community spirit by making our Food Support Programme for the February Half Term a huge success.
We managed to arrange a whopping 300+ parcels. Local foodbanks such as SLMCC-NIDA Foodbank and supermarkets such as Aldi, Asda and Lidl have been extremely generous. Staff, friends and families were also very giving, bringing smiles on the faces of the many families who received their food parcels graciously.
Phil Barton and his amazing team of Trainee Social Workers had a good response from all those visited and provided with a parcel. Many staff members volunteered to help with the deliveries as well. Without help from all these people, this initiative would not have been as successful.
By the time February Half Term commenced, we offered a parcel to all our free school meal students, all 281 of them! and for the vast majority it was a welcomed gesture. With the support and encouragement from everyone, we hope we can do this again for the Easter break.
It has been an absolute pleasure working on this worthwhile initiative – Rooks Heath staff and families have definitely shown that they Strive To Be Their Best in all aspects!
Thank you.
Mrs. Subra and Mr. Barton