Year 10 presentation to SACRE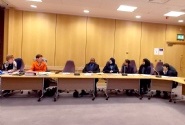 Year 10 students gave an outstanding presentation of their views on Religious Education to SACRE this week.
Religious Education Subject Leader's presentation to SACRE at the Civic Centre, Harrow on 12th June 2013.
The Religious Studies Department was invited to do a presentation to the Harr
ow Standing Advisory Council for Religious Education (SACRE) about the quality of RE provision at the Rooks Heath School. The focus of this presentation was on the:
quality of teaching and the RE curriculum
standards and achievement in RE
status of RE at Rooks Heath and what the subject leader regards as the strengths of the department
priorities for further development.
SACRE also asked some students to contribute to the presentation by addressing the following:
how RE is taught in KS3 and what they think the strengths of the RE curriculum are at Rooks Heath?
whether they enjoy RS in KS4 and why?
whether they think that students should be taught RE throughout their school life and the reasons for their opinions.
the status RE has in the School.
The presentation went exceptionally well. The students: Milan10B, Negina 10Y, Muna 10Y and Lana 10Y were just amazing, considering the number and calibre of people represented in the Conference Room – from Roman Catholics to Rastafarians, Councillors to Headteachers. Rachel Bowerman, Local Authority Lead Officer to SACRE said that they gave "a powerful presentation". They certainly made Rooks Heath very proud.
Dr Donkor