Comic Relief Final Total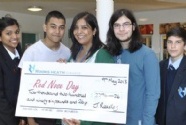 This year students have raised the amazing sum of £2296.97 for Comic Relief.
Students used their initiative and creativity to
organise a variety of events including a huge number of fairground-type stalls, arm-wrestling competitions, student sponsored silences, sponsored pie-the-teacher, guessing Jessie J's new hairstyle, a Mufti Day and a mass dance involving teachers and students all dancing to the song 'Candy'in the playground.
Harrisons Catering joined the fund raising activities by baking and selling delicious Red Nose cupcakes.
The high-light of the week was the Comic Relief Entertainment Evening when our Sixth Form students helped organise many hilarious performances and sketches involving staff and students.
It proved to be a very enjoyable and successful week at Rooks Heath and we are extremely proud to announce that the grand total raised was £2296.97.