Six students + three staff = Stage sound room reclaimed!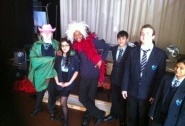 Students are often happy and are even bursting to help out when it comes to the 'fun' music jobs
Students are often happy and indeed are often bursting to help out when it comes to the 'fun' music jobs such as welcoming guest performers to assemblies, helping out at school functions etc. However, it's not so often that students are equally happy and indeed almost enthusiastic to help out with the 'not so fun' jobs.
The sound room on the side of the stage has been jam packed full of things (years of props from various productions, lots of leads and a fair heap of dusty 'things') for years with the much needed sound equipment being pushed to one side. For two hours the Year 10 GCSE team of Pride, Zak, Liam, Sheil, Rose and Narmada helped to pull everything out, sort through it all and then put some of it back in an orderly fashion. Although they were all asked to relocate loads of items, clean up and take many trips to the bin and to other areas all across the school there wasn't a complaint or grumble in sight, indeed they were asking what they could do next! This fantastic class sat their GCSE exam before the holidays and are now looking forward to some well earned more relaxing times of making music in class. We feel they've definitely earned a break next lesson!
Miss Christensen, Mr Ring, Mr Pitchforth