KS5 Exam Results 2020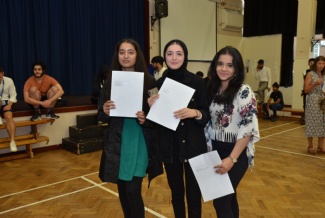 Rooks Heath Students Achieve Well in Summer 2020 'Pandemic' exams.
Congratulations to all our Key Stage 5 students for their excellent results. Summer 2020 has seen an unprecedented event with the coronavirus pandemic. The exam process this year has been exceptional. It is very sad that in response to the Global COVID-19 pandemic, the Summer 2020 exam series was cancelled not allowing our students to sit actual exams but we want all parents to be reassured that the grades awarded are a true testament to our student's hard work and determination.
In spite of these changes, Rooks Heath students managed to celebrate the following:
 An increase in the number of A*/ A grades awarded
 Almost a third of the cohort achieved a total of 42 grades A*, A or Distinction
 Bucking the national trend with an increase in the numbers of students studying biology and chemistry.
 Many of our students secured a place at a university of choice in spite of the challenges of the grade awarding process.
Phenomenal success was achieved by a number of students in Chemistry, Business Studies, Latin and Mathematics. Rooks Heath is a unique comprehensive school boasting teaching in Ancient Greek and Latin with students making their way to Oxbridge and other Russell Group universities.

Amongst the many success stories, Alex was one of many students who leapt over the moon on achieving three A*s. "I don't even know what to say, I really tried hard and when the exams were cancelled, I was really worried. I knew I was a hard worker and now I feel so relieved that my hard work paid off" he said, amidst tear-filled eyes.
Across the vocational subjects, Business, Computing, Health and social care and the Applied Sciences we saw a 100% pass rate. Here there were several successes too for example Angelica Weerasinghe – Distinction* Distinction, Distinction.
Not all students were as successful as Alex. Of course we have seen a small number of students who were disappointed but due to the excellent advice and guidance from staff and the careers advisor, students left with ideas and renewed hope for the future, some deciding on taking up the opportunity of resit exams in October and others embarking on gap years. We await the final outcome from the awarding bodies which we hope will make the next steps smoother for all our KS5 students.

We could never have imagined such an eventful academic year. It has been a real challenge ensuring that whilst the school remained shut during the pandemic, our students were made to feel encouraged, motivated and inspired to look forward. The process staff used has been applied fairly and students have rightly achieved according to their merit.

It is difficult to make an exact year-on-year comparison with this context. Not all results have been received and staff wait with bated breath for these outcomes trusting that the process will do our students justice. As a result, we are aware that these results must be treated with caution as there may be a number of successful appeals. At the time of writing, there are a few students for whom we await the outcomes for the vocational results – BTEC ICT.

We are extremely proud of the Year 13 Class of 2020 and they should feel proud too of all the resilience they have demonstrated during this time. We wish all our KS5 students the very best for the future.