KS4 Exam Results 2020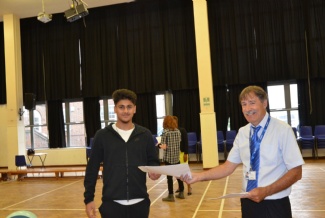 A huge congratulations to all our year 11 students for
a well-deserving set of results for 2020. This year will certainly be memorable. Up until March, year 11 had put in plenty of additional hours of study and this clearly paid off. Well done to all of them for their resilience, determination and for showing gratitude to all the staff who supported them on their journey.
We are lucky to have to have so many dedicated staff who have supported all our students throughout their time and who were also present to meet with students on the day.
Our results day was filled with stories of joy and students celebrating grades allowing many to pursue their A level courses at Rooks Heath. It was a delight to see so many students collecting their results and hearing some of their comments.
"Yes! I got the grades to do psychology, I am really excited to do this next year at Rooks Heath", Liana
"I am really happy, I worked hard. I'm looking forward to next year now", Donnell
"My mum will be really pleased with my grades Ancient Greek, Latin and History, I'm going to continue studying all the Classics at Rooks Heath now and maybe go to Oxford", Samiul
Our results are compared with over 22 thousand other
schools using our data system, SISRA and we were pleased to see our student progress as a streak of 'green' demonstrating the outcome of their hard work.
We are aware that it has been a very challenging time for our year 11 students since March and it was a pleasure to see them return to school and for them to see each other once again and share their good news.

We are very proud of our year 11 students and we wish them all the very best as they embark on the next stage of their educational journeys. Some will move on to pastures new at other educational institutions whilst the majority will continue their studies with us at Rooks Heath.
We look forward to welcoming them back into the Sixth Form.