Inclusion Trip to London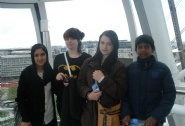 Inclusion Trip to London Eye and River Boat Cruise
On 9th May, 23 students from the Inclusion Unit, travelled into London for a trip on the London Eye and a cruise on the River Thames. From the Eye the students saw London's newest and Europe's tallest building, The Shard and they could see as far as Wembley Stadium. There were a few that couldn't bear to watch as we approached the top but an exciting time was had by all.
This was followed by a trip on the Thames River Cruise which started at the Houses of Parliament and continued to Tower Bridge. Some of us braved the top deck whilst the clever ones stayed inside in the warmth.
All the students and staff had a thoroughly enjoyable day.
The special thing about this trip was that the students did not have to pay for the exciting day. This was made possible because of a generous donation that was made two years ago from Mr & Mrs Ferrier parents of a former Rooks Heath student.
Many thanks from all 27 of us!!!