Sport Relief 2020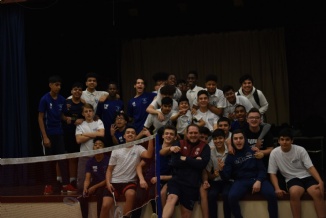 Going the extra mile for Sport Relief 2020!
This year Rooks Heath has done more than ever to raise money for this great cause. Every Year Group was involved, and members of staff also stepped up to the various challenges. These included; a sporting treasure hunt from Year 7, dodgeball competitions from Year 8, a basketball skills challenge and Tik Tok dances from Year 9 and an Olympic challenge set by the Year 10s, with a variety of sporting activities completed at lunchtimes. Sixth Formers completed the Sport Relief Mile - a fantastic event with many students and staff running side by side. After school, we had various 'Challenge the teacher' events, where students donated money to participate against a teacher at either table-tennis or badminton.
On the final day of Sport Relief week, we had over 100 Year 9 and Year 10 students participate in our inaugural '10
Hours of Sports Challenge' , during which students competed in a variety of sports from 9 am until 7 pm, nonstop! The activities included; basketball, handball, trampolining
, volleyball, football, fitness and dodgeball, plus many more. Students donated to take part, and staff also sponsored students to complete the full day of sport. All students completed the 10 hours and although tired, had smiles on their faces showing strong resilience and team spirit through the challenges. These students will be receiving '10 Hours of Sport' badges, which they can wear on their blazers to signify their involvement in raising lots of money, as well as their drive and determination to complete tough physical challenges.
The total amount raised by Rooks Heath was £1,382.57 ! This is a fantastic achievement and we can't wait for the next one in 2022!
Mr King (Head of PE)