Headbands for front Line Staff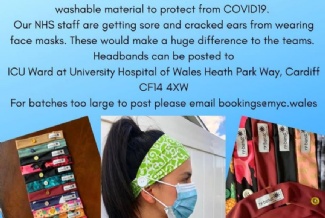 Rooks Heath School staff make great efforts to help key workers at Northwick Park Hospital by making buttoned headbands.
A huge well done to Rooks Heath staff, whose fantastic efforts over the Easter holidays meant that we were able to help and support workers at Northwick Park Hospital.

A team led by Miss Bennett (Head of the D&T Department), set about making buttoned headbands, so that doctors, nurses and other medical staff would be able to wear their face masks and avoid getting sore ears during their long 12 hour shifts. The idea came from an appeal, seen by Miss Bennett, from a friend who works at another hospital.

Over the course of two days, the Rooks Heath team cut the fabric, threaded through the elastic and sewed on the buttons. All the time while observing social distancing! By the end, they had managed to produce about 100 headbands!


It was a huge effort from Rooks Heath School key workers, helping fellow medical key workers. The resources used were from donations to the D&T department from Mrs Das, Mrs J. Wright and Mrs Gharyal. The members of the headband production line team were Miss Bennett, Mrs Webber, Mrs Kilroy, Mrs J. Wright, Mrs Harman and Ms Verden.

We are extremely proud that Rooks Heath was able to help the local community. We hope that all medical staff, as well as other key workers, are able to stay safe and well, during these difficult times.