Classics Trip to Rome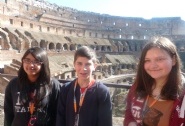 Year 9 students went to Rome to study Classics in the Easter holidays.
On 1st April in the Easter holiday three students (Yousuf, Klaudia and Rekha 9Y)
from Rooks Heath accompanied by Ms Nash and many Nower Hill students jetted off to Italy for a jam-packed Classics trip. We visited many historical sites including Pompeii, Mount Vesuvius and the Colosseum. The highlight in Pompeii was the massive amphitheatre that could hold the whole population of the city, 20,000 people! Walking around the tiered seating of the Colosseum gave us an amazing view of the underground dungeons that would encase lions and other wild animals ready to attack the gladiators. We all thoroughly enjoyed the trip (especially the Italian pizza!) and would like to thank all the staff that helped organise this fantastic trip.
Yousuf 9Y