Book Club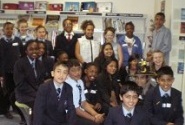 Year 7 & 8 students have been reading lots of books in our new Book Club (RHBC)
On the 25th April 2013 RHBC held a belated World Book Day. They invited Students from Heathland Primary School to join them for the afternoon to enjoy readings from 'Pig Heart Boy', 'Kensuke's Kingdom' (which has proved a favourite amongst our Book Clubbers), 'Harry Potter and the Chambers of Secrets' and finally a book about the underground Slave Trade – 'Underground to Canada'.
Competition
See if you can complete the following "what if" poem:
Think up four of your own "Whatifs" and write them in the spaces below. Make them as funny and original as you can.
PS. Don't forget to make two pairs of rhymes.
Whatif
Last night, while I lay thinking here,
Some Whatifs crawled inside my ear
And pranced and partied all night long
And sang their same old Whatif song:
Whatif I'm dumb in school?
Whatif they've closed the swimming pool?
Whatif………………………………………………………
Whatif………………………………………………………
Whatif………………………………………………………
Whatif………………………………………………………
Whatif I tear my pants?
Whatif I never learn to dance?
Everything seems swell and then
The nightmare Whatifs strikes again!
Book Club is open to any readers in Year 7 and 8. You can join at any time.
We meet every Thursday week two from 12.30pm until 1.00pm in the Library to talk about books over biscuits and juice.