Year 11 Geography trip to Swanage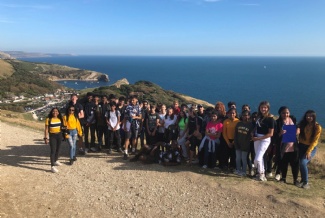 Day 1: On the 13th September at 7:30am, 48 Rooks Heath students met outside the School for a trip they would never forget. The sun was shining and it was looking like it was going to be a glorious end-of-summer weekend. The trip to the services was filled with laughter, loud music and casual snoring from here and there.
Our first stop was after 3 hours at one of Studland Bay's beautiful beaches where we were given some free time to explore, take some pictures and stretch our legs before returning to the mini-vans for our next stop, a small village near Swanage containing a duck pond. Here we completed a worksheet about the environment and what it is like to live in the village of Worth Matravers. We then walked down a large hill and arrived at a clearing which consisted of some caves which we explored briefly before being offered the option to climb down an even steeper hill, which I said no to because it was too steep for my liking. We then returned up the hill which was filled with lots of moaning about how tired we all were. Little did we know, that this was just the beginning!
Finally, we arrived to the Youth Hostel where to our happiness, my friends and I were given a large room with an en-suite bathroom and a beautiful view of the sea and the cliffs. We freshened up before heading down to dinner and then went to our lesson where we spoke about our fieldwork which we were going to be completing the next day. Much to our excitement, we were told that from 8:30pm we would be allowed some free time where we could go and explore the town of Swanage which all of us enjoyed. We then returned to the hostel and played a game of hide and seek which was very enjoyable before we returned to our rooms before it was time to sleep in preparation for the day ahead.
Day 2: Much to our dismay, we were woken up early by Mr Simpson so we could get ready in time for breakfast and for the long day ahead of us. Today was the day that we carried out our fieldwork for GCSE exam. We gathered in the classroom, collected our lunch, and embarked on our journey to Knoll beach, which was very stunning to look at. The weather was in our favour too as it was warm and sunny, although the warm part didn't help while we were walking. My group managed to finish our fieldwork which included measuring wind speed using anemometers and the amount of marram grass using quadrats. Throughout our fieldwork, Mr Wright and Mr Simpson were giving us some very interesting and helpful information to guide us through the work and to give us a better understanding of our surroundings. We then stopped to eat lunch on a bench on the beach which I enjoyed as we were able to look at the beautiful surroundings. Once we finished our fieldwork we started the walk to 'Old Harry', a stack formation in the sea. We had to walk for what felt like forever, and believe me, we were complaining most of the time. I told myself I would never complain about missing the bus and having to walk all the way home ever again (which was a lie!) However, realistically I knew that it would benefit my health. Eventually we arrived, and I have to say the view was stunning. The experience was so much better than sitting in a classroom and seeing a picture of it on the board as you can't possibly appreciate its true beauty like that. Many of us took photos whilst being taught the geology responsible for the formation. It was a memorable and incredibly beautiful experience. We then trekked up some large hills, which was an extremely hard challenge, and back to the youth hostel. In the evening we had a short lesson during which we created group posters as to why tourists should visit Knoll Beach before once again enjoying some free time.
Day 3: Once again we were woken up bright and early by Mr Simpson and headed down to breakfast. We then set off in the mini buses to visit an interesting but deserted little village called Tyneham which I still believe at night is haunted. This village was evacuated during the Second World War and became a military training base.
All the original buildings, such as the classroom and church, are still there and were really fun to explore. After this, we went to visit a landform called Lulworth Cove, which was really pretty to look at and interesting to learn about. We then climbed up this huge hill which had a beach on the other side. This was once again very tiring as the weather was warm and the hill was very steep. It was extremely difficult to climb it but I was proud of myself when I reached the top even though I thought at times I wasn't going to make it. I slid along the pebbly pathway and eventually we reached the beach. We spent some time down there just taking some pictures. My friend had caught some footage of me nearly falling on her so we had a good laugh at that before it was time to head back down the hill to the the mini buses. Mr Wright and Mrs Wright (formerly Miss Jenkins) were constantly telling us to get a move on as there were a few of us trailing behind but we eventually made it and I was proud of all that we had achieved throughout the weekend.
Day 4: We all woke up early this morning, however there was a sad feeling around us as we didn't want to leave. We would miss the beautiful sights and the memories made and the short walk down the hill into town in the evenings. We went for breakfast and ventured into the town to answer some questions on coastal defences and once we had finished we had some free time before it was time to embark on our trip back to Harrow. Much to our sadness, we arrived back at school a few hours later and we all wished we could go back to Swanage.
Overall, I must say that this has been one of my best experiences ever in Rooks Heath and I am so glad I decided to go on the trip. These 4 days were unforgettable. So many new bonds and friendships were formed, so many memories made and so much laughter heard. An amazing experience! Thank you so much to our wonderful teachers for arranging this trip and for all the teaching in Swanage. I know we can be hard to handle sometimes but you did amazing and this is something I will never forget. I would love to return to Swanage again and I would highly recommend this trip to future Year 11s who are considering whether to attend as it was an experience of a lifetime that you definitely wouldn't want to miss!
By Nancy, 11 Indigo