Year 7 confront ancient fossils and a monstrous dinosaur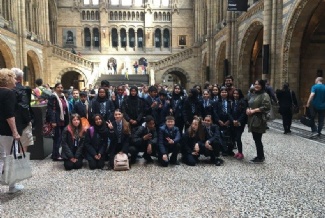 A group of 23 Year 7 pupils on the 12th June confronted some ancient fossils and a monstrous dinosaur. No, they didn't knock on AF18 to see Mr Clark, they were visiting the Natural History Museum in London accompanied by Mr d'Arce, Mrs Ali-Tewari and Mrs Shrestha.
They visited various different exhibits in the museum, from the Dinosaurs Galleries to the massive 1355 year old sequoia tree trunk. The students were able to see how the science theory they learn in school is applied and used in the real world by the researchers and scientists at the NHM. One particular highlight for the students was the taxidermy of Guy the Gorilla, one of their reproduction case studies they learnt in Biology
.
The highlight of the trip according to the students was witnessing the mineral collection, especially the Vault which contained many rare and special rocks, minerals and gems, including Mars meteorites and the Aurora Diamond Collection. The students were very engaged and well-behaved, we may indeed have some budding geologists here at Rooks Heath.