Rooks Heath students receive awards from the Mayor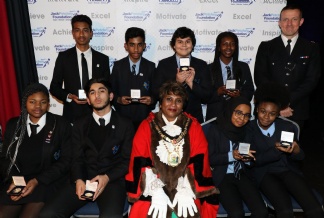 Eight Rooks Heath students have been awarded by the Mayor of Harrow at the Jack Petchey Awards Evening for their contribution to PE at our school.
Each student had the honour of receiving their award from the Mayor of Harrow and we are very proud of them all.
Azizah and Mya were given their awards for increasing participation in girls sport through our All-Stars program; encouraging students in primary schools to participate and enjoy PE.
Roman was given his award for commitment to helping lower school PE.
Zahi was given the award for promoting and attending all extra-curricular clubs and teams.
Melissa and Zyena were given awards for helping with inter-form competitions, representing the School at many different sports and acting as role models to lower school students.
Steven was given his award for representing the School at volleyball and always giving 100% during his PE lessons.
Zaahi received his for participation in many sports throughout his time at Rooks Heath and acting as a role model for younger students.
Each student was given £250 they could spend within the PE department and we now have new fitness equipment, football goals, basketball kits and All-Stars hoodies. Thanks guys and congratulations!
Mr King