Art trip to the Tate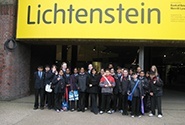 On Thursday 28th February a group of Year 8 and 9 students went to visit the Roy Lichtenstein exhibition at the Tate Modern
Lichtenstein was a founding member of what became known as Pop Art, which emerged in London in the 1950's with artists like Paolozzi and Blake and was concerned with the juxtaposition of everyday objects and images. By the time it had found its way to the states advertising had been re- invented. It was no longer limited to newspapers and magazines but was now on television which was appearing in every home, in film trailers and on giant bill boards. It was this landscape of bill boards, as well as all the images that accompanied consumerism found on packaging and labelling, that Lichtenstein set out to document along with other artists like Warhol, Oldenberg and Rauschenberg. It became an art movement that was to say more about America and American idealism than any other movement since.
Famously it was Walt Disney imagery that started Lichtenstein off on his career as a best selling artist and he went on to adopt and subvert the visual language of advertising and the comic strip using increasingly complex combinations of Benday dots to create tone and shade, reflection and light; a strong primary palette and the ever important black line.
Students said…..
His crying girl series was the most popular room in the gallery, set alongside his war and romance paintings
it was all the images we had seen in the books. But we weren't prepared for how interesting they would be close up. From a distance they looked like the book images sort of glossy and professional but close up you could see where Lichtenstein had drawn in his lines, his quite rough paintbrush strokes and the overlapping of the Benday dots to create tone. You could also see that he got better with practise which was reassuring for all of us and gave us the confidence to try it for ourselves.
We had a good day and saw a lot of paintings! As well as the Millennium Bridge, which appears in the Harry Potter film and its backdrop of St Pauls. Despite the cold we walked along the river to look at Shakespeare's Globe which was surprisingly small. We also saw Tower Bridge and the Tower of London.
Miss Hargrave said……
There were lots of schools at the Tate that day and Rooks Heath were the most well behaved of all. It was a pleasure to take such lovely students to an equally interesting and lovely exhibition. Sorry I couldn't take you paddling, maybe next time!
Now we have started making our own Pop Art as you can see from the pictures below. Look out for our own Pop Art supermarket coming soon to the Middle Room Gallery.