Rooks Heath are winners at Basketball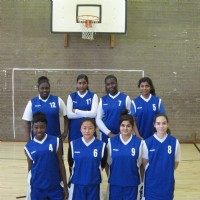 We are delighted to announce that Rooks Heath girls have won The Harrow Schools Basketball Tournament.
Rooks Heath hosted the Harrow Schools Girls Basketball Tournament on Thursday 31st Janu
ary. We entered teams in both the upper school and the lower school categories. We had entries from Park, Nower Hill, Whitmore and North London Collegiate schools. Once again we finished up as winners in the Under 14 competition for the second year running having won all our games by considerable margins. The Under 16's also came out on top winning all of their matches. Well done girls!
Under 14 Girls were: Mia, Joy, Adriana, Tiana, Sapphyre, Janet, Desharne, Lynsey.
Under16 Girls were: Emilie, Abitami, Kim, Sristi, Sejal, Sirjana, Hanifa.