Year 9 visit the Science Museum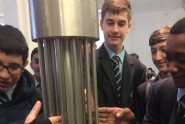 On Monday 5th March 30 Year 9 students visited the Science Museum in London.
The group played memory games on the tube journey to the Museum and then toured the Museum together before settling down to lunch. Everyone was excited about going to the 'wonderlab', which had been booked in advance as it is very popular.
Here, students were given time to explore the interactive gallery, which proved to be very entertaining. Students took part in a race where they had to pull themselves up using a lever system.
There were a lot of younger children in this area and our students waited patiently, allowing them to go first and even playing with them while they were waiting. Their parents, a Security Guard and a shop assistant praised our students for their ability to follow instructions and for their politeness. They behaved as excellent Ambassadors for the School and the day was a huge success.