'School of Rock'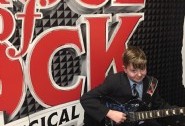 On 11th January some lucky students went to see the musical, 'School of Rock.
A group of fifty students in Years 8 and 9 took the tube into London on Thursday 11th January to see a matinee performance of the popular musical, 'School of Rock' .
Students said that they 'loved the performance' and by the end of the musical most of them were out of their seats cheering and singing. In the interval some lucky students had the opportunity to play instruments that were set up for them to try out. It was a fabulous experience and some members of the public commented on the students' great behaviour leaving the staff involved feeling very proud of them.