Art Exhibition 2018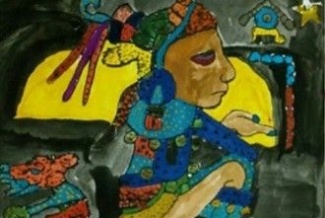 This year the Art Exhibition will take place on Wednesday 27thJune from 5.30 - 8.30 pm as part of the KS4 Celebration Evening.
The Art Department are in exam mode with final art exams for both GCSE and A' Level taking place very soon. Students are working hard to complete coursework and prepare for the exam. This year the Art Exhibition will take place on Wednesday the 27th June 5.30-8.30 pm as part of the KS4 Celebration Evening.
The Art Department has been working with Year 5 students at Earlsmead Primary School since October 2017 establishing working practice with sketch books. They have completed two projects looking at Mayan art and Van Gogh. The third project is looking at the art and culture of Greece.
Artist workshops
This year we had a two-hour workshop delivered by Jeanette Barnes from the Royal Academy. Barnes is a practising artist specialising in expressive charcoal drawings of London. Twenty-five GCSE Students were introduced to her techniques, making their own charcoal drawings. This was followed up in the class room with students making artist studies of her work for inclusion in their 'Rivers and Bridges' portolios.
Barnes made the students look at their mark-making and experiment with how they could use it to describe the surfaces of London's buildings. They also learned how to combine visual resources to make more original compositions. Students used charcoal to make their drawings.
We actively encourage students to apply for outside opportunities and our students regularly attend the Sorrel Foundation Saturday Schools, as well as University summer schools.
Every year we send 5 GCSE students to the Sorrel Foundation's Saturday Art Schools at the V&A. This is a National programme run on Saturdays over a period of 14 weeks culminating in a National Exhibition at Somerset House. Students work with a range of artists and within a range of disciplines; meeting and working with students from other schools. They consider and explore creative pathways around current thinking about Art and Design.
A new opportunity arose this year for two of our year 12 students to attend Central Saint Martins. Summer Universities provide an opportunity for Year 12 students to experience university life at leading institutes for the study of Art and Design in London. Students will work closely with distinguished academics, gallery curators, artists and other professionals, as well as undergraduate students.
Another opportunity taken up this year is a partnership with The Crafts Council of Great Britain and Central Saint Martins to rejuvenate and expand our ceramic provision and education programme. We are one of 7 schools taking part in this 'Make your Future' programme which will culminate in 4 days of workshops for 60 KS3 students with ceramicist Helen Johannessen and an exhibition of students work at Central Saint Martins in July. This programme will be followed up in 2018/2019.