Year 12 Geography trip to North Norfolk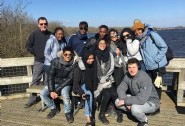 On the 16th March, our Year 12 Geography students set off to North Norfolk to complete fieldwork for their coursework.
Year 12 Geography trip to North Norfolk
On the 16th March, our group of 10 students and 3 teachers (Mr Wright, Mr Simpson and Miss Jenkins) set off to North Norfolk (home of Mr Wright) to complete fieldwork for our coursework.
Day 1: The first day was quite eventful. Firstly, we visited Deepdale Farm but sadly there were no animals. The farmer has diversified meaning that the purpose of the farm has changed. It now offers hostel accommodation and campsites for travellers who have a love of the countryside and the coast. Going around the farm was enjoyable because our guide (the son of the owner) was very engaging and informative.
After that, we put on our wellingtons and went to a saltmarsh. A saltmarsh is an area of muddy ground near the sea which proved difficult to walk across as our boots would get stuck in the mud. Nevertheless, we trudged on to where Mr Wright was leading us. As we continued walking, we sometimes had to figure out how to get past a particularly muddy or deep gully. Whilst most of us managed to just walk around them, some (e.g. Jathavan, Abdi and Murtaza) chose to jump and, surprisingly, they succeeded. However, others were not so lucky, fell and lost a boot. All in all, it was a good experience.
Day 2: To say it was cold is a huge understatement. Nevertheless there was still work to be done. We went to Burnham Market to carry out our first bit of fieldwork even though our hands were freezing and it hurt to write. The village is known locally as 'Chelsea-on-Sea' and the people were very nice and happily answered any questions we had. Once we finished up there, we went to Cromer. Here we attempted to complete the second half of our fieldwork. However, with such bad weather, some clipboards were lost to the wind. But on the bright side, we did enjoy eating at a Michelin star restaurant called 'No.1 Cromer'. Then, we headed back to the youth hostel.
Day 3: This was the coldest day by far. Our plan for the day was to visit five different beaches to investigate coastal erosion and coastal management: Hemsby, Sea Palling, Happisburgh, Overstrand and Cromer. Our first stop, Hemsby, did not prove to be as successful as we had hoped because the public were not allowed onto the beach. It was thought that some of the houses near to the cliff edge were close to collapsing into the sea. The waves had been hitting the cliffs so strongly that they had become unstable and there was a risk of cliff collapse. Since this area was being filmed by BBC News, we thought we could end up on TV. Sadly, we were not so lucky.
Next, we went to Sea Palling. The tide was still high when we got there but we did manage to get onto the beach. Even though visiting the beach was pleasant, returning to the minibus with freezing feet was not.
After that we visited Happisburgh and Overstrand. Like earlier, the tide was high, so we could not go onto the beach at Happisburgh. However, we did walk by the cliffs and saw the remnants of a road that had collapsed many years earlier. Many people had lost their homes as well or were told to leave as it was too dangerous to stay. It was fascinating and somewhat saddening to see up-close the consequences of poor coastal defences.
Due to the poor weather, we decided to postpone our visit to Cromer. Instead, we went back to the youth hostel and played cards with the teachers, who weren't that great but they tried. Later in the evening, the teachers kindly took us to the cinema (perhaps to make up for their lack of card skills) which was a nice end to the day.
Day 4: On the last day, we went to the beach in Cromer. The tide was not as high as the previous day but it was high enough to prevent us from doing fieldwork on the beach.
However, we did take group pictures and the view was nice so it was still a good experience. The final thing we did was take a walk through The Broads National Park. It was really peaceful to be surrounded by nature and it was a wonderful experience. After that, we headed back to school.
Mr Wright, Mr Simpson and Miss Jenkins were very fun and helpful throughout the trip which is one of the reasons why everyone had such a good time. The only thing that would have made it better is warmer weather.
By Fathiya, 12 Red