Exam results 2017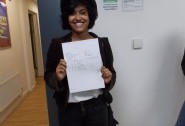 This has been another brilliant year for the students and staff at Rooks Heath School.
We are celebrating excellent public examination results from the summer and we would like to take this opportunity to offer our warmest congratulations to all of those who have realised their goals this year. When you consider that many of our students join the school after the start of Year 7 and on some occasions from backgrounds with little or no previous education, we are extremely pleased that our GCSE results are in line with, or above the National average.
Some of the highlights are:
English: 75% achieved levels between 9 -4 with 52% achieving levels 9-5.
Maths: 68.5% achieved levels 9-4 with 46% achieving levels 9-5. This represents 29 students which is around 1 in 5 achieving a top grade of 7, 8 or 9 in Maths. 5 students achieved the maximum level 9 which is an outstanding performance.
Languages: 53% achieved grade A*/A. This represents 66 students achieving an A*/A grade out of 124 students entered for the exams. Our results this year maintain our place as one of the top schools nationally for results in Languages. They were stunning!
The highest performing student was Musa Ali who achieved 11 A*/A grades (including three 9s in English Language, English Literature and Mathematics. Rooks Heath prides itself on being a totally inclusive school and we are therefore very proud to state that 100% of our students achieved at least one GCSE qualification.
Post 16: at A Level 75% achieved grade A*- C with 99% achieving A*- E. The highest performing student was Nathan Griffith who achieved 2 A* and 1 A grade and is now going to the London School of Economics and Political Science to continue his studies.
BTEC results were outstanding with the vast majority of our students gaining Distinction* grades.
All students who applied to University have been accepted and we wish them well as they start their new courses.
These results prove that hard work, dedication and a determination to succeed will allow all to make sustained progress and show people what can be achieve when they try.
Well done to everyone!