International Women in Engineering Day - Bechtel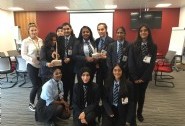 To mark International Women in Engineering Day ten Year 10 girls were invited to visit Bechtel in Park Royal.
Below are several different articles from Mrs Haddow and the students who were lucky enough to visit Bechtel.
Mrs Haddow - Friday June 23rd was International Women in Engineering Day and to mark the occasion ten Year 10 girls and I were invited to visit Bechtel in Park Royal. Bechtel is a huge, family owned, American engineering company specialising in construction and project management of huge projects in a variety of fields such as energy and mining. We were treated to a fabulous day of presentations, activities and even a free lunch! We met female engineers from all over the world and listened with interest to their journeys into engineering and through Bechtel.
We learnt about our communication styles and then, after lunch, the girls were split into two teams, given a budget and asked to plan, design and make a loading arm within the available time. The two loading arms were tested by the Bechtel engineers and the winning team was the one who made the most profit. It was fascinating watching the teams work together through all stages of the project, to see them putting into practice some of the skills that the Bechtel engineers had spoken to them about earlier in the day and to see how their confidence grew and how competitive they became as the deadline loomed. We had a great day and everyone agreed that the combination of presentations and activities had given an excellent insight into possible careers in engineering.
Kyara 10O - The trip gave me a very informative and clear insight into my future. It really helped me to rethink about what I would want to do in my future. It was a very enlightening experience that highlighted the huge range of jobs in engineering. It was Woman in Engineering day and it taught me that women can do anything men can do. The part I really enjoyed was when we got to play human bingo and had to ask the engineers questions to find out what they did. I also enjoyed when we got to build a loading arm and had to think about aspects of the task such as finance, whether the arm was long enough and if it would hold 100g or more. Overall the trip to Bechtel was fantastic and I would hundred percent recommend it to you.
Savitha 10R - My experience at Bechtel was definitely one that made me more aware of the different areas I could go into in my future career.
The day focused on different aspects of engineering. I particularly enjoyed the final task of the day, split into groups, we were asked to create a model of a loading arm. We were given details about all the different features that need to be planned out in order to produce this piece of equipment; the structure of the arm that would allow it to work efficiently and the finances involved with putting it together. I felt I learnt how to go about designing and producing a product profitably as an engineer would. Overall I gained some experience on a career as an engineer and am thankful for the opportunity.
Nethma 10I - I very much enjoyed my time at Bechtel. It opened my eyes to many opportunities, not only as an engineer but also to the people working beside them. The speakers, who each gave us a brief presentation on their personal journeys to their careers, were all very lovely and I found their stories most engaging. The women who worked there were all lovely and pleasant people to chat to. I must say my day at Bechtel was most enjoyable!
Sajidhaa 10O -
Bechtel is one of the most respected global engineering construction and project management companies. The opportunity of having a brief day with them is one that I had with immense gratitude as it made me more aware of the individual careers that can often be seen as 'males' future endeavours. As it was International Women in Engineering Day on 23rd June, we focused our attention on the amazing careers in engineering and technical roles for girls via brief presentations in which speakers told us of several previous areas that they worked in, including one of the most recent, on the Crossrail project. It allowed us to meet various engineers in the company and enabled us to celebrate the achievements of our outstanding women engineers.
Anushka 10O - Engineering .... Hard hats, men, goggles and physics. Right? Well apparently not. Our recent trip to the Bechtel office has enlightened the dark and restrictive myth of engineering. Apparently, I don't have to grow a moustache or shave my head to be an engineer. Lucky me!
The visit allowed us to acquire the knowledge of the various different aspects of engineering; including: chemical engineering, mechanical engineering and also civil engineering which really fascinated me.
My favourite part of the day was the loading arm challenge which made us aware of and understand the different aspects that must be taken into consideration before constructing buildings (amounts, costs, time, place, builders (wages) etc.)
I am thankful to Mrs Haddow and Mrs Sahota for organising this great opportunity as I feel I have benefited significantly from it.