STEM visit the NPL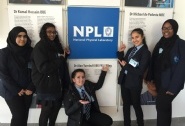 On Thursday 2nd March, I took five Year 9 & 10 students to the National Physical Laboratory in Teddington.
On Thursday 2nd March, I took five Year 9 & 10 students to the National Physical Laboratory in Teddington. It is the UK's National Measurement Institute and has been developing the science and standards of measurement for over 100 years. One of its most famous developments was the Atomic Clock in 1958 which transformed the way we measure and use time. It beats 9 billion times per second!
The trip was a STEM (Science, Technology, Engineering and Maths) trip being hosted by NPL rather than a trip about NPL and the students undertook a range of science based activities. In one activity they worked in small teams with students from other schools to manufacture 'Whirly-Birds'. They made 'Whirly-Birds' for three minutes and then stopped for two minutes to review and improve their operation before repeating the cycle. Each team had a team leader who could not help make the birds, only direct and encourage. The teams then prepared a presentation and delivered it to some 'dragons'. The winning team was one led by one of our students, Sarah in Year 9. She combined knowledge learnt in Business bridging with knowledge learnt on the day. Ms Chambers would have been very impressed.
In the afternoon scientists from the NPL presented a number of experiments, some very simple and some, involving liquid nitrogen, a lot more dramatic but all very thought provoking. We were also given a presentation on apprenticeships. Apprenticeships have changed and I would recommend that all students investigate the opportunities that they now offer. Have a look at the government website www.getingofar.gov.uk and if you want any more information come and talk to me, Ms Sahota or our careers advisor Becky Howells.
Many thanks to Ms Sahota for organising such a fabulous trip for us.
Mrs Haddow
From Sara in Y10:
My favourite part of the NPL trip was experimenting with liquid nitrogen. I also enjoyed learning about apprenticeships because it's a path I will be sure to consider. I was also keen on presenting with the groups we were put in for our mini toy making business. We had to work together to fabricate whirly birds. I've developed my teamwork and presenting skills which will help me in the future. Overall, the trip to the National Physical Laboratory was majestic and if, you are given the opportunity, I recommend it to you.
From Mathangi in Y10:
Thursday 2nd March, 2017 was the day when four other students and I went to the National Physical Laboratory. As soon as we got there we saw pictures and other objects showing the history and I learnt that Alan Turing had been a scientist there. My favourite part of the day was making the whirly birds and putting our logo on them and then presenting our business. We were in competition with the other teams and sadly we didn't win but we tried our best. Later we watched experiments with liquid nitrogen which was amazing. We also had a talk on apprenticeships. That day counts as one of the best of my life because it confirmed to me that my dream job is to be a biomedic.
From Jemma in Y10:
My trip to NPL was one I really did enjoy, it was both so interesting and informative. We did a variety of experiments with professionals to do with weight and mass, we played around with liquid nitrogen and also worked with vibrations of different frequencies (creating a simplified version of the atomic clock which was developed there). The thing I enjoyed most was working with students from other schools. Working with others that you are not familiar with teaches you skills like working as a team with new people and a variety of traits that will be useful for the future. I hope that the school has more trips like the trip to the National Physical Laboratory.
From Sarah in Y9:
Going on the NPL trip really was eye opening. It gave me the
chance to consider what I wanted to do with myself in the next couple of years. In the past I had considered what I wanted to study for my A Levels and the career I wanted to go into but I never really knew about the options I had along the way. For example taking an apprenticeship. Apprenticeship was a word I had heard many times but never really understood what it meant or what I can do with it. From the great people at NPL I was able to learn that I can take an apprenticeship and go to university at the same time meaning I wouldn't have accumulate so much debt. I learnt that at NPL they have apprenticeships in: Junior Science, Business Administration, IT, Engineering, Marketing and Metrology (the science of measurement). Overall I really enjoyed my trip there and if there ever is the chance for you to go. Take it.