Year 11 Geography Trip to Swanage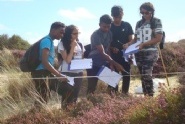 On the 9th of September 2016, 27 GCSE Geography students went on a trip to Swanage to collect data for our controlled assessment. We stayed there for 4 days and 3 nights and had a fantastic time.
Year 11 Geography trip to Swanage
On the 9th of September 2016, 27 GCSE Geography students went on a trip to Swanage to collect data for our controlled assessment. We stayed there for 4 days and 3 nights and had a fantastic time.
Day 1
We left school at 8:30am and proceeded on our 4 hour journey to Swanage. We took 3 minibuses (Mr Wright's one obviously being the best one) and made our way. To get to Swanage, we used a ferry for a couple of minutes which was interesting since most of us had never been on a ferry. Once we arrived, we had our lunch at a beach that was nearby. That part was quite fun as some of us played football together and others wrote their names in the sand. It was a nice memory. After that we went on a walk to this area that had a cliff. It was really amazing to see the waves crash against the side of it. Later on we went to the Youth Hostel (where we were staying) and sat in the classroom there for a bit organising our rooms. Once we settled into ours rooms, we had dinner, then classroom time and then some free time to look around the shops.
Day 2
We were woken up bright and early by Mr Simpson, then got ready for breakfast. We had planned to collect the data for our controlled assessment but the weather was kind of rainy so we decided to do it on Sunday instead. So we went to visit this town which was evacuated back in the war and turned into a military training base. Once the war was over people, weren't allowed back in so everything that the residents left years ago is still there. We saw a classroom that still had in it the work of the children from back then. It was really interesting to look at. After that we went to visit Lulworth Cove, which is an example of a landform
we'll be studying later on in the year. The Cove was really beautiful to look at and knowing the background information about it kind of made it even nicer to look at. Near the visitor Centre, there was a very large hill that had a beach on the other side, so we climbed it. Imagine climbing a very steep hill whilst it being very foggy. It was very hard to climb (at least for me anyway). As we reached the top, the weather began to clear up and it became sunny. This meant that there was a lot of mud of the beach. After suffering from many slips and slides on the muddy surface, we finally reached the beach. This was one of my favourite moments of the trip. Some of us were standing at the edge of the beach waiting for the waves to hit our feet. Others were playing around on the beach but it just felt really nice.
After playing for a while, we had to go back up the hill to get to the minibuses. It was another long climb up the hill, with Mr Wright constantly telling those at the back of the group to hurry up. However, once we got to the buses, I felt really proud of myself for actually climbing it.
Day 3
Sunday was the most important day! It was the day when we carried out the fieldwork for our controlled assessment. We arrived at Knoll Beach and we were stunned by the beauty of the beach. Fortunately, the weather was perfect as it was sunny. We did all the fieldwork, including the beach pollution survey and using quadrats to measure the vegetation and erosion in the sand dunes. Mr Wright and Mr Simpson were giving excellent and very useful information as we went around Studland beach. We explored the areas of conservation, which consisted of heather, marram grass and the sand dunes. Mr Wright took charge of this bit and he explained thoroughly what we needed to know. We had lunch for about 30 minutes so we all sat on the beach eating as we enjoyed the scenery. We learnt about an important place called the 'honeypot site' which is where all the facilities are and is the main area which tourists use. It included the toilets, information centre and shops, in which they sold ice cream and nice meals. Mr Simpson explained the whole management of tourism and the honeypot site, and other things we needed to know for the controlled assessment! Once we had finished, we went to see 'Old Harry', a stack in the middle of the sea. We had to do a lot of walking (we were complaining most of the time, but it was a good experience and benefited our health…and we rarely walk that much in Harrow!) When we got there, we were left speechless and were blinded by the beauty.
It was a breathless scene and we sat down and looked at it. We were so close to it and to be honest learning about it in class and seeing a picture on the board is NOTHING compared to seeing it in real life. Old Harry attracts many tourists and all of us took out our phones and were taking photos. We were told how it was formed and the geology behind it. But then it is Geography! We walked all the way back to the youth hostel across huge hills. This was a great challenge which we all completed.
Day 4
It was our last day and we were upset to leave as we would miss having the short walk down the hill to the sea. We were given a set of questions that we had to complete and the answers were in the town. Although after that we were given free time and some of us were playing and some of us bought ice cream and small souvenirs and gifts to take back home. We travelled home on the minibuses and, many hours later, arrived back in Harrow.
Overall I would say those four days were the most UNFORGETTABLE, FUN AND AMAZING days. It was a great experience. I would like to say a big thank you to all the teachers for arranging this trip and for all the teaching in Swanage! I would love to go there again and I highly recommend this trip to all the other students. You would most definitely not want to miss this incredible experience!
By Fathiya and Priskilla 11R