Brighton or Bust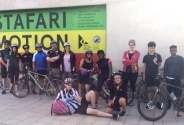 Sunday 19th June rolled around with clockwork like predictability. The day of the London to Brighton Bike Ride was here again, the second time Rooks Heath had entered a mixed team of staff and students.
Sunday 19th June rolled around with clockwork like predictability. The day of the London to Brighton Bike Ride was here again, the second time Rooks Heath had entered a mixed team of staff and students. One thing we couldn't predict, however, was the British weather. Predictably, it was as unpredictable as ever. My training, and that of my team mates' training, had not been as extensive as we would have liked in the weeks running up to the big day due to wave of rainy afternoons, wet weekends, thunder storms and even flash floods.
But, as they say, time waits for no one. My alarm went off at 5am and on opening the curtains I was met with some very welcome sunshine. It looked like Sunday was going to be ok. Or at the very least dry.
I rushed my breakfast as Mr Sharp arrived in his lycras and Ms Wright in her Mercedes. The team bikes were loaded into our hire van and we were soon on our way to Brixton to meet the riders.
Once there, Mr Sharp and I waited outside Brixton Underground Station, McDonald's coffee in hand, as the riders arrived in dribs and drabs. James, by far our tallest team member, had been told to check out the David Bowie memorial mural which we had spotted over the road and took the opportunity to take a couple of team photos as the rest of the staff arrived. Although our students were rather underwhelmed by the whole ritual, Sharpy and I felt that this was a good omen. With 'The Dame' looking over us, even under pressure, and with minimal training, we could be heroes.
"The Dame"
The team rallied, unloaded the bikes, pumped the tyres, stretched the legs, wolfed down the Haribos, took our protein pills, put our helmets on and waited for Mr Wright to arrive. He had somehow managed to make a ride from Euston to Brixton last a whole HOUR! One more team photo and we were off to Clapham Common and the start line.
All smiles at the start
The ride out of London to the first check point is always a bit of a stop start affair due to the sheer amount of cyclists and traffic lights. It's on this section that I learned from Miss Nash that she had hurt her wrist and had the beginnings of a cold developing. Coincidently, it was also on this section that I decided that I would probably not be riding alongside Miss Nash for the rest of the day, only needing to hear about her ailments the once.
For me, the first check point was a way of gauging the distance that had developed between our riders and making an educated guess at our E.T.A in Brighton. It was at this point in 2014 that one of our student's knees had swollen up to the size of a melon and he was clearly going to be struggling. This year, to my relief, our riders all rolled in with respectable times, hunky dory and in high spirits. A few Snickers bars later we made the decision that we would check in another 20 miles along the course.
It was now time to get our heads down and some road under the wheels. Having started a little later this year, the field contained fewer cyclists but I still noticed a few people on Tandems, BMXs and some costumed riders, my favourite being the group of gangster priests I passed close to the next check point.
Twenty miles later we regrouped at the 'Curious Pig in the Shadows' pub. Mr Wright rolled in followed by Mr MacCauly and Mr Webber. The gaps had clearly widened but as we waited, it gave Mr Wright time to stuff down a burger so big that I would have needed an hour nap after eating it! Within an hour Desharn and Pravina arrived, cycling together, clearly enjoying the day, going at their own pace and chatting to other riders. Water bottles refilled, we were ready to go again. But hang on! Where was Sri Ram?
Sri Ram had missed our training ride and had no working front gears. We waited. And texted. And waited some more. Mr Wright decided to ride back to find him while I struggled to get hold of our lost rider with bad phone reception, whilst getting everyone else off on their bikes. Eventually, I got through and learned that somehow he had managed to speed past us and was two check points along the course.
So, on the road again, Paulina, a natural cyclist, took her usual position at the front as I edged past the check points looking for our missing team mate. Five miles in, I found him. I touched the brakes and called for him to join me. We had a couple of miles before we hit the next climb at Turner's Hill for me to see how his ride was going. He was doing well despite his mechanical problems. However, I did become a little apprehensive when he turned to me and said: 'Can I be honest Sir?' 'Of course,' I said, concerned that he was hiding something like a bad knee and might not make it. He continued: 'I haven't done any training.' I laughed and offered a few sage words of advice. Turner's Hill loomed and we parted at the assent.
With the blood flowing from our brains to our legs, checking in at the next agreed rest stop proved a difficult task for most of us. Mr MacCauly, Miss Nash, Miss Knox and myself stopped early. Miss Shmarl, Miss Nash, Mr Wright, Mr Webber, James, Desharn, Pravina and Khaled getting it right. Paulina and Mr Sharp were well ahead of the pack and on their way to the dreaded Dichling Beacon. After taking on food while comparing flapjack flavours and making a few 'glitchy' phone calls to our dispersed team, I hit the road with the riders around me. Then, seeing Mr Webber at the side of the road a couple of miles ahead, I stopped and found my errant team mates. They were mainly in good spirits though Khaled claimed he was now regretting his life choices. Despite this consternation he was doing well. The weather, however, was starting to change.
'Uphill then downhill,' is how I under described Ditching Beacon to our novice riders, admittedly with more emphasis on the downhill. Our team, now fragmented, were about to tackle it on their own terms. By the time I was up, a few riders had made it and gone down the other side despite plans to regroup at the top. And with good reason. On reaching the summit I was met with an unseasonably cold wind. Mr MacCauly, Miss Knox and Miss Shmarl made it up along with Mr Wright. Pravina, Desharn, James and Khaled followed and after taking in the fantastic view and some 'selfies' with some strangers, we ushered them off.
The welcome committee
The wind was getting seriously strong now and it was cold. Everyone was on their way downhill towards the finish line while Mr Wright and I hunkered down sheltering behind a van and waited for Sri Ram to appear. After a couple of miss-sightings and a few warming cups of tea we spied him, walking not riding, but looking ok. We were too cold to see what had kept him. We grabbed our bikes, grabbed Sri Ram, reassured him that it was all downhill from there-on-in and headed for the finish line. A blast of icy north wind met us as we headed down the other side. Wearing only a short sleeve cycling jersey, I had no choice but to pedal as fast as I could to warm myself up. This is always the fun part. Safe in the knowledge that the roads ahead were closed, I could open up and get up some serious speed on the descent. Mr Wright soon caught up at a set of traffic lights. We sped towards our student riders and quickly dropped them as we got onto the flat leading to Brighton. As we passed them I could just hear Desharn shouting that I had lied about it being ALL downhill! Mr Wright took the lead; he had being doing some serious riding in the weeks running up to this but despite his excellent form, I managed to stay on his wheel across the wind swept dual carriage way, passed the assorted traffic lights and then up to the beach. Once at Marine Parade and with our eyes on the finish line, we spied the familiar Rooks Heath logo on a banner held by Mrs Webb, Ms Bennet and Ms Wright, our finish line cheerleaders with a welcome gesture of a job well done.
So there we were, sweaty and cold. One by one our riders crossed the finish line and collected their medals as the rain edged in harder from across the Channel. We gathered the team and loaded the bikes back in the van while some team members went for a well-earned fish and chip dinner. With that we were done. The mini bus headed home as the fog, wind and rain rolled in and the air was filled with the sound of snoring and Ms Rockell's loud assertions of other drivers' incompetence.
I must give an enormous thank you to Ms Rockell and Ms Wright for giving up their Sunday to drive our mini-bus and van for the team. Congratulations to our magnificent team: Desharn, Sri Ram, Paulina, James, Pravina, Khaled, Ms Schmarl, Mr Wright, Mr Sharp, Mr MacCauly, Mr Webber and Ms Knox. I must also give a special mention to Pravina for being the star fund raiser to the tune of £200 and to everyone who sponsored the team: thank you very much, thanks to you we managed to raise £688.
Still smiling at the end, but a lot sorer
So who fancies it next year?
Mr Pitchforth
6th Form Enrichment Coordinator