Creative Geography!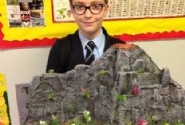 Year 7 and Year 8 have been making amazing models in Geography
Students in Year 7 and Year 8 were given an opportunity to show off their creative skills during Geography last term, by making models. Year 7 students were given the task of making a model of a famous landmark, and Year 8 students made either a volcano or a model to show the structure of the Earth.
Isobel 7G Aida 7G Josef 7G
When students started bringing them into School, I could not believe how good many of the models were. It was clear that many had spent a lot of time planning, researching and making their models. The results were truly outstanding. Some Year 8 students even brought in erupting volcanoes and volcano-shaped cakes. Below is a selection of some of the wonderful models which are currently on display in the Geography classrooms. But there are many, many more deserving of praise which are not shown in this article.
Year 7 students peer assessing each other's models.
Goshikan 7I Samuel 7O Samuel 7O
Stefano 8O Maha 7G
Saina 7G Wiktoria 7W

A massive well done, on behalf of the Geography Department, to all the students in Years 7 and 8 who worked so diligently on this homework task!!
Mr Simpson, Head of Geography